DALCA specializes in marketing solutions aimed at generating higher profits. Our focus and strategy focus on providing comprehensive and turnkey solutions in two essential areas for business success: the generation of new opportunities and how to guarantee that most of these opportunities become won business .
DALCA provides solutions in areas with great growth potential that are not yet being exploited to their full potential: Sales Enablement, Personalized Videos for Customers and Transpromo.
With more than 20 years of experience in these practices, we have a group of professionals with extensive experience who have successfully impacted the sales results of multiple companies.
Our consultants have extensive experience and specialization in areas of sales, marketing, design and technology. This allows us to provide the best solution for each aspect of our portfolio.
Founded with the aim of providing turnkey services to marketing areas on a flexible platform and methodologies to adapt to our client's culture and integrate with existing technology.
DALCA Marketing & Technology has offices in Miami, United States, and Buenos Aires, Argentina, providing services throughout Latin America.
Dalca is an old rowing boat built with three planks of larch or cypress from Las Guaitecas curved over fire and joined with larch tow. It was used in the Chiloé canals by the Chono Indians and was later adopted and modified by Mapuches and Spaniards. With this rudimentary canoe, various species were fished, including whales and sea lions.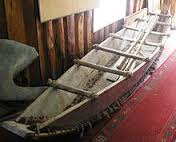 This skill and strength is what inspires us to work with clear objectives and achieve excellent results.
Excellence
Responsibility
Seriousness